==================
Affiliate Statement
Best Baking Tips is supported by our audience. When you purchase through one of our links, we may earn a small affiliate commission.  As an Amazon Associate I earn from qualifying purchases. Your cost is not affected.
==================
These Raspberry Apricot Shortbread Cookies are the perfect treat for any occasion! They are delicate and crumbly with a buttery flavor. These cookies would be perfect for a tea party or any special occasion. Raspberry Apricot Shortbread Cookies are best when fresh, but they can be stored in an airtight container for up to one week. Enjoy!
Raspberry Apricot Shortbread Cookies: Sweet and Tart!
Delicious raspberry apricot shortbread cookies that are sweet and tart, filled with a buttery, melt-in-your-mouth dough. These are super easy to make with only a few ingredients and they always disappear quickly! The key to the perfect shortbread cookie is in the dough. It should be rich and buttery, but not too dense. The cookies should be firm but is still melt in your mouth. I like to add a little bit of almond extract to my dough for an extra depth of flavor, but you can omit it if you prefer. These particular cookies are filled with a delicious raspberry apricot jam, but you can use any flavor of jam that you like. I hope you enjoy these cookies as much as we do!
Best Baking Tips: Let's Make It Healthy Vegan!
If you're looking for a delicious and healthy vegan shortbread cookie, look no further! The healthy vegan alternative ingredients in these Raspberry Apricot Shortbread Cookies are whole wheat flour and coconut oil instead of all-purpose flour and butter. Whole wheat flour is a great source of fiber and essential nutrients, while coconut oil is a healthy plant-based fat. These two ingredients work together to create a delicious and nutritious cookie that just happens to be vegan! Here are a few tips for making the perfect Vegan Raspberry Apricot Shortbread Cookie:
Be sure to use whole wheat flour for the dough, this will give the cookies a lovely nutty flavor.
Coconut oil can be replaced with any other plant-based fat, such as olive oil or avocado oil.
If you don't have raspberry jams or apricot jams on hand, feel free to use any other fruit – strawberries, blueberries, or even blackberries would be delicious in these cookies.
These healthy vegan ingredient tips will help you make the best possible cookies. Enjoy!
Raspberry Apricot Shortbread Cookies
If you want to try these irresistible Raspberry Apricot Shortbread Cookies, share your photo and experience with us, and let us know what you think in the comments below by using #bestbakingtips and #raspberryapricotshortbreadcookies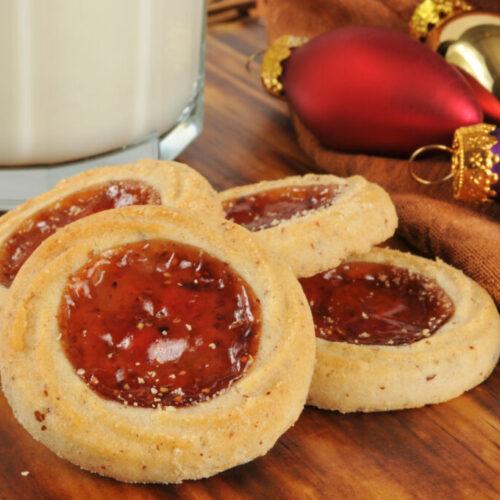 Raspberry Apricot Shortbread Cookies
If you're looking for a delicious and fun cookie recipe to make this holiday season, look no further than raspberry apricot shortbread cookies! These cookies are easy to make and taste great. Best of all, they're festive and colorful, adding a touch of cheer to your holiday gatherings. Give them a try!
Ingredients
Let's gather the ingredients!
1½

cups

all-purpose flour

½

cup

almond flour

1

cup

unsalted butter

softened

⅔

cup

light brown sugar

½

tsp

almond extract

or vanilla extract

⅓

cup

raspberry jam

⅓

cup

apricot jam
Instructions
Let's Begin!
Preheat oven to 350°F. Line a baking sheet with parchment paper.

In a large bowl, cream butter and sugar until light and fluffy. Beat in extract; gradually add both flours until the dough forms a ball.

Cover and refrigerate for 1 hour or until dough is easy to handle.

Roll into 1-inch balls. Place on the prepared baking sheets, 1 inch apart. Using your thumb or the back of a teaspoon, make an indentation in the center.

Mix raspberry and apricot jam together, then fill the dough, about 1/4 heaping teaspoon.

Bake for 14-18 minutes or until edges are lightly browned. Remove to wire racks to cool.

Serve and enjoy with family and friends!
Nutrition
Calories:
83
kcal
Carbohydrates:
19
g
Protein:
1
g
Fat:
0.5
g
Saturated Fat:
0.2
g
Polyunsaturated Fat:
0.1
g
Monounsaturated Fat:
0.1
g
Cholesterol:
1
mg
Sodium:
12
mg
Potassium:
31
mg
Fiber:
0.4
g
Sugar:
10
g
Vitamin A:
17
IU
Vitamin C:
0.4
mg
Calcium:
14
mg
Iron:
1
mg
Must-Read Articles
Below are the must-read articles about baking. You will enjoy them reading as they are full of information and helpful tips. Read them and share your thoughts.
To Wrap It All Up
So, if you're looking for a delicious and unique way to show your friends and family some love, look no further than raspberry apricot shortbread cookies. These sweet treats are easy to make and will definitely be a hit with anyone who tries them. Why not give them a try yourself?
Thanks for following along with this recipe! I hope you enjoy the final product as much as I do. If you make these raspberry apricot shortbread cookies, be sure to tag me on Facebook, Instagram, Pinterest, or Twitter so I can see them. Have a great day!
Connect With Us
If you've tried these Raspberry Almond Linzer Bars, don't forget to leave a rating on the recipe card. Take a ? and tag us on our social media accounts: Facebook, Twitter, Instagram, and Pinterest. ?? For more baking recipes make sure you subscribed to our weekly newsletter. ?
Read More
Raspberry Cheese Dessert Pizza Recipe
White Chocolate Raspberry Cake