==================
Affiliate Statement
Best Baking Tips is supported by our audience. When you purchase through one of our links, we may earn a small affiliate commission.  As an Amazon Associate I earn from qualifying purchases. Your cost is not affected.
==================
It's beginning to look a lot like Christmas! What better way to get in the festive spirit than by making some delicious peppermint bark? It's easy to make and makes a great gift for friends and family, or maybe just enjoy it yourself! Whether you prefer dark chocolate, white chocolate, or an equal mix between them both, this peppermint bark recipe promises to be irresistible. So gather your supplies and let's get cooking. It won't take long before you'll have warm cozy holiday memories, plus yummy snacks in no time!
Christmas Peppermint Bark: A delicious Christmas treat that's sure to bring joy!

Christmas Peppermint Bark is an indulgent sweet treat that is perfect for the holidays. This easy homemade candy begins with dark chocolate and white chocolate being melted together and then poured into a pan to harden. Bits of crunchy peppermint candy are mixed in with the melted chocolate, resulting in a delicious flavor combination. Once the mixture has hardened, it can be broken off into smaller pieces or gently smashed using a hammer. The result is dark and white chocolate pieces combined with crunchy peppermint bits, making it an exquisite winter dessert. Christmas Peppermint Bark can be enjoyed alone as a snack or served alongside drinks at holiday parties.
The dark chocolate layer is rich and smooth, while the creamy white chocolate offers a lighter counterpoint to the dark. Not only does this sweet creation look and taste sensational, but it is also easy to make yourself! All you need is dark and white chocolate, a dash of peppermint oil or extract, and some crushed peppermint candy. Stir up a batch for your next holiday gathering or special occasion, it's sure to become an enduring favorite!
Best Baking Tips; Pro-Tips!
Christmas is the season for getting creative in the kitchen, and there's no better project than making your own homemade Peppermint Bark! It's easy to make, looks beautiful on any Christmas table, and it's always a hit with family and friends. Here are tips to help you make the perfect Peppermint Bark this holiday season.
Quality Ingredients
Make sure you use high-quality chocolate that melts easily. You'll want to be able to evenly spread it across your baking sheet so opt for a trusted brand instead of bargain-bin chocolate.
Melting
Make sure you don't seize or overheat your chocolate, make sure your water is not boiling, and as soon as the chocolates are fully melted, immediately pour them onto the baking sheet.
Another tip: Before adding the peppermint candies or extract, make sure your melted chocolate is cooled slightly so that you don't melt the candy too much.
Christmas Peppermint Bark
If you want to try this Christmas Peppermint Bark Recipe, share your photo and experience with us. In addition, let us know what you think in the comments below by using #bestbakingtip and #christmaspeppermintbark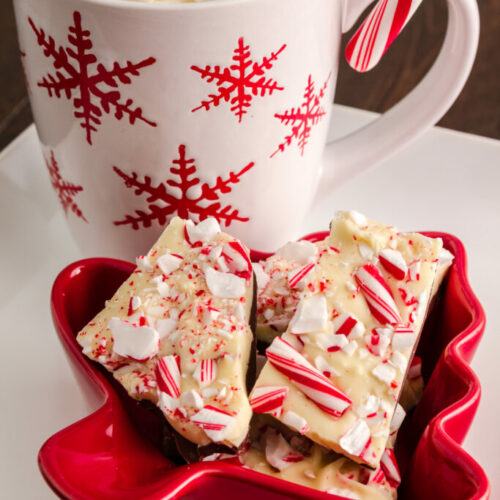 Christmas Peppermint Bark
Nothing screams Christmas like the festive aroma of peppermint! For many, peppermint is a flavor that takes them back to childhood - whether it was sharing a candy cane with family or licking the bowl clean after making cookies. This holiday season, get in the spirit by trying your hand at making some delicious and undeniably festive Peppermint Bark - both fun to make and completely unforgettable when enjoyed. Follow this recipe for a simple yet seriously tasty treat that is sure to hit all the sweet spots this Christmas!
Ingredients
Let's gather the ingredients!
12

ounces

dark chocolate chips

12

ounces

white chocolate chips

½

tsp

peppermint extract

10

candy canes

crushed
Instructions
Let's Begin!
Fill the bottom of a large pot with 3 inches of water, then bring to a simmer over medium-low heat.

Place a large heatproof bowl on top of the pot. Add dark chocolate, and stir until the chocolate has melted. Stir in the peppermint extract.

Pour the melted dark chocolate on a baking sheet lined with parchment paper, then spread it into an even layer with an offset spatula. Refrigerate until set.

Over the same pot of simmering water, place another heatproof bowl, then melt the white chocolate.

Once the white chocolate has fully melted, pour it over the set dark chocolate, then immediately top it with crushed candy canes.

Refrigerate until the chocolate has fully set.

Chop or break the chocolate into bite-sized pieces. Serve with hot chocolate or coffee.

Enjoy with family and friends!
Nutrition
Calories:
306
kcal
Carbohydrates:
33
g
Protein:
4
g
Fat:
18
g
Saturated Fat:
14
g
Polyunsaturated Fat:
0.4
g
Monounsaturated Fat:
3
g
Cholesterol:
6
mg
Sodium:
56
mg
Potassium:
261
mg
Fiber:
1
g
Sugar:
26
g
Vitamin A:
11
IU
Vitamin C:
0.3
mg
Calcium:
142
mg
Iron:
0.4
mg
Must-Read Articles
Below are the must-read articles about baking. You will enjoy them reading as they are full of information and helpful tips. Read them and share your thoughts.
2. Steamed Rice Cake Muffins with Cheese
3. Chocolate Dulce de Leche Cheesecake
4. Filipino Bread Rolls (Pandesal)
To Wrap It All Up
Christmas is a time for family, friends, and of course, food! This year, wow your loved ones with a batch of homemade peppermint bark. It's easy to make and only requires a few ingredients that you probably already have in your pantry. Plus, it's always impressive when you can say you made something from scratch. personalize each piece by drizzling on some extra chocolate or adding chopped nuts before the bark sets. Your friends and family will be thanking you for this tasty holiday treat long after Christmas is over!
Connect With Us
If you've tried this Christmas Peppermint Bark Recipe, please don't forget to leave a rating on the recipe card. In addition, Take a ? and tag us on our social media accounts: Facebook, Twitter, Instagram, and Pinterest. For more baking recipes make sure you subscribed to our weekly newsletter. ?
Read More
Peppermint Meringue Cookies Recipe
Best Type of Cinnamon for Baking
Cream Cheese Christmas Cookies
Chocolate Strawberry Cheesecakes