==================
Affiliate Statement
Best Baking Tips is supported by our audience. When you purchase through one of our links, we may earn a small affiliate commission.  As an Amazon Associate I earn from qualifying purchases. Your cost is not affected.
==================
There are few treats that can bring as much joy to our lives as a freshly baked, melt-in-your-mouth delicacy. And if you're looking for something delectable and delicious, why not try making some delicious and oh-so-impressive Danish Puff Pastry Braids? These flaky braids pack all the flavor of a traditional puff pastry with an extra helping of elegance, thanks to their incredibly intricate shape. Not only do these pastries look amazing on your kitchen counter or next to a cup of tea, plus they taste just as good too! So if you're feeling tempted by these goodies but don't know where to start in the kitchen, worry not! We'll show you everything you need to know about whipping up this tasty treat!
Danish Puff Pastry Braids:

Danish Puff Pastry Braids are a delicious breakfast treat that are sure to please the whole family. The puff pastry acts like a flaky crust, while the fillings are tucked inside to act as a sweet surprise. Some popular ingredients to tuck into these delectable braids include pecans, cream cheese, cinnamon, and fruit jam – but these braids can be filled with virtually any combination of ingredients you can imagine!
Making this dish is easy: simply braid together pieces of store-bought puff pastry dough, lay out your desired filling ingredients in strips along the center of each braid, and then bake until nicely golden brown. Each bite is packed full of delightful flavor, in an aesthetically pleasing presentation guaranteed to get everyone up and ready for their day.
Best Baking Tips; Ingredient Tips!
If you're making Danish Puff Pastry Braids, the crucial ingredients that will make these deliciously sweet snacks really stand out are puff pastry, brown sugar, and pecans.
Puff Pastry
puff pastry is a must; it's essential for flaky, buttery layers that make these pastries irresistible. To make sure your puff pastry masterpiece turns out perfectly, begin by using high-quality puff pastry such as a store-bought brand or one that you make yourself.
Brown Sugar
Brown sugar added to melted butter creates a rich flavor that adds depth to an already decadent dish. When paired with the soft and flaky puff pastry dough, brown sugar amplifies the taste of the Danish pastries. If you want an extra crunchy topping layer of brown sugar and melted butter on the braid's surface just before baking.
Pecans
Pecan filling adds a touch of nutty sweetness that could not be beaten! The combination of brown sugar and pecans creates a gooey and tasty center that pairs perfectly with the flaky layers of the puff pastry dough. Be sure to lightly toast your pecans for an ultimate crunchy, gourmet experience. You won't regret it!
Danish Puff Pastry Braids
If you want to try this Danish Puff Pastry Braids Recipe, share your photo and experience with us. In addition, let us know what you think in the comments below by using #bestbakingtip and #danishpuffpastrybraids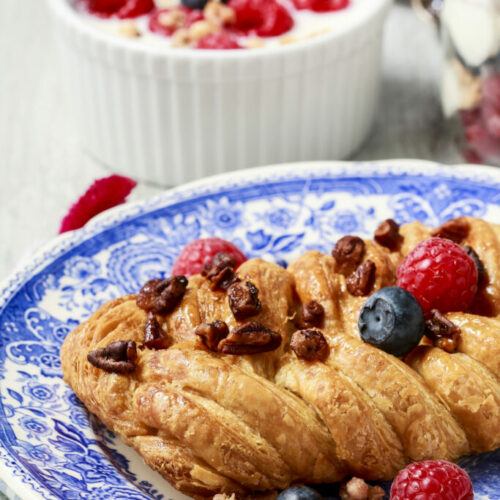 Danish Puff Pastry Braids
Are you in the mood for something sweet, savory, and satisfying? If so, then you're in luck. Today I'm sharing with you an easy-to-follow recipe for Danish puff pastry braids – a delicious and eye-catching treat that's sure to delight your family or guests! This versatile recipe will allow you to create tasty appetizers or gorgeous desserts. Even better, it takes very little time and effort to make these flavorful treats. Read on to find out how to quickly whip up these golden pastry delights!
Ingredients
Let's gather the ingredients!
1

package

puff pastry

defrosted

1

cup

unsalted butter

melted

2

cups

brown sugar

packed

2

cup

pecans

lightly toasted, chopped

1

cup

all-purpose flour

1

tsp

cinnamon

ground

½

tsp

kosher salt
Toppings (Optional)
candied pecans

fresh berries
Instructions
Preheat oven to 350°F, then line a baking sheet with parchment paper. Set aside.

In a large bowl, combine butter, brown sugar, pecans, flour, cinnamon, and salt. Mix until all combined.

On a lightly floured surface, lay the puff pastry and unfold it gently, then divide it into 4 rectangular portions.

Roll each portion into a 12x8-inch rectangle. Cut slits 1 inch apart from the 2 sides of the pastry rectangle within 1/2 inch of where the center mixture will go.

Spread the filling on each puff pastry with a quarter of the filling to within 1/2 inch of the edges.

Starting at one end, fold the pastry strips over the pecan filling on a diagonal, alternating sides. Brush the pastry lightly with the egg wash.

Bake for 18-20 minutes or until lightly browned. Remove from pans to wire racks to cool slightly.

Garnish with candied pecans and fresh berries.

Serve warm, and enjoy with family and friends!
Nutrition
Calories:
1971
kcal
Carbohydrates:
194
g
Protein:
19
g
Fat:
130
g
Saturated Fat:
44
g
Polyunsaturated Fat:
19
g
Monounsaturated Fat:
59
g
Trans Fat:
2
g
Cholesterol:
163
mg
Sodium:
359
mg
Potassium:
486
mg
Fiber:
7
g
Sugar:
110
g
Vitamin A:
1507
IU
Vitamin C:
1
mg
Calcium:
163
mg
Iron:
7
mg
Must-Read Articles
Below are the must-read articles about baking. You will enjoy them reading as they are full of information and helpful tips. Read them and share your thoughts.
2. Angel Wing Cookies (Chrusciki)
3. Chocolate Dulce de Leche Cheesecake
4. Scottish Shortbread Biscuits
5. Hungarian Nut Roll (Beigli)
To Wrap It All Up
Let us know what you think in the comments below – did you try out this recipe? What other fillings would you like to see in a Danish Pastry Braid? As always, if you have any questions or need some help with anything related to baking, feel free to reach out. We're here to help make your baking dreams come true!
Connect With Us
If you've tried this Danish Puff Pastry Braids Recipe, please don't forget to leave a rating on the recipe card. In addition, Take a ? and tag us on our social media accounts: Facebook, Twitter, Instagram, and Pinterest. For more baking recipes make sure you subscribed to our weekly newsletter. ?
Read More
Sweet Almond Pecan Braided Pastry
Classic Cream Puff Recipe – Amazing!
Caramel Apple Puff Pastry Tarts