==================
Affiliate Statement
Best Baking Tips is supported by our audience. When you purchase through one of our links, we may earn a small affiliate commission.  As an Amazon Associate I earn from qualifying purchases. Your cost is not affected.
==================
Scottish Shortbread Biscuits are a buttery, crumbly biscuit that is perfect for dunking in your morning tea or coffee. These biscuits are a Scottish staple and can be found in most cafes and bakeries throughout the country. Here is a recipe for classic Scottish shortbread biscuits that you can make at home. Enjoy!
Scottish Shortbread Biscuits: Super Buttery and Crumbly!

Scottish Shortbread Biscuits are a traditional treat that has been around for centuries. Made with simple ingredients like butter, sugar, and flour, the crunchy cookies melt in your mouth with their buttery goodness. To make them truly authentic, you must include a lot of quality butter, the more the merrier! When baked in their signature golden-brown color, these biscuits are simply divine.
You can enjoy them as an after-dinner snack or even as a dessert served with fresh fruit and a dollop of cream. Their crumbly texture also makes them the perfect accompaniment for tea or coffee. So if you want to experience true Scottish hospitality, then try these delicious Shortbread Biscuits – they will definitely leave you wanting more!
Best Baking Tips; Pro-Tips!
Making the perfect Scottish Shortbread Biscuits is not as difficult as it seems. By following some helpful pro-tips, you can make a comforting, scrumptious shortbread in no time!
Before you get started, make sure to have all the ingredients ready ahead of time; gathering butter, flour, sugar and salt will save you valuable baking time.
As you begin mixing your ingredients, it's important to ensure that your butter has been softened but still kept cool and if possible, use a stand mixer on low speed during the mixing process to avoid overworking the dough.
Additionally, it's essential that the dough be chilled before baking so that your biscuits come out flaky and crumbly when finished.
While baking at 300°F for roughly 35-40 minutes or until they are golden brown will yield ideal sweet treats – however, remember to keep an eye on them while they bake!
And last but not least, don't forget to add a sprinkle of sugar when they come out of the oven for an authentic Scottish Shortbread experience.
Scottish Shortbread Biscuits
If you want to try this Scottish Shortbread Biscuits Recipe, share your photo and experience with us. In addition, let us know what you think in the comments below by using #bestbakingtip and #scottishshortbreadbiscuits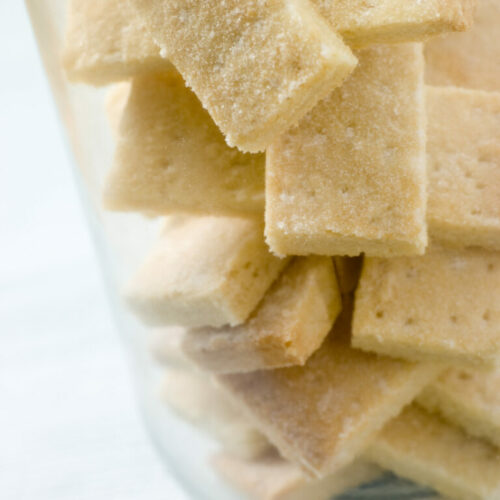 Scottish Shortbread Biscuits
Have you ever tried Scottish shortbread biscuits? They are a delicious, buttery biscuit that is perfect for dunking in coffee or tea. Today, I'm going to show you how to make your own Scottish shortbread biscuits at home. It's a very simple recipe that is sure to please everyone!
Ingredients
Let's gather the ingredients!
1

pound

unsalted butter

softened

1

cup

granulated sugar

plus 3 tbsp for sprinkling

½

tsp

kosher salt

1

tbsp

vanilla extract

3 ⅔

cups

all-purpose flour

sifted

1 ⅓

cup

rice flour

sifted
Instructions
Let's Begin!
Preheat oven to 300°F. Line a 13x9-inch baking pan with parchment paper.

In a food processor or a mixing bowl with the paddle attachment, Cream the butter and sugar until light and fluffy. Add the salt and vanilla extract.

Combine both of the flours, then gradually beat into creamed mixture.

Press the dough onto the prepared baking pan, then gently prick with a fork.

Bake for 35-40 minutes until lightly brown on the edges.

Cut into 48 bars while warm, then sprinkle with sugar on top, and cool completely on a wire rack.

Serve and enjoy with family and friends!
Nutrition
Calories:
136
kcal
Carbohydrates:
15
g
Protein:
1
g
Fat:
8
g
Saturated Fat:
5
g
Polyunsaturated Fat:
0.3
g
Monounsaturated Fat:
2
g
Trans Fat:
0.3
g
Cholesterol:
20
mg
Sodium:
26
mg
Potassium:
16
mg
Fiber:
0.4
g
Sugar:
4
g
Vitamin A:
236
IU
Calcium:
4
mg
Iron:
0.5
mg
Must-Read Articles
Below are the must-read articles about baking. You will enjoy them reading as they are full of information and helpful tips. Read them and share your thoughts.
2. Honey Butter Cornbread Muffins
5. Hungarian Nut Roll (Beigli)
To Wrap It All Up
So, there you have it – a little bit of Scottish baking history and how to make the perfect shortbread biscuit. Why not give them a try yourself? They're really easy to make, and they always go down a treat with family and friends. And once you've got the basics nailed, why not experiment with different flavors and ingredients? I'm sure you'll come up with some delicious combinations! Thanks for reading, and happy baking!
Connect With Us
If you've tried this Scottish Shortbread Biscuits Recipe, please don't forget to leave a rating on the recipe card. In addition, Take a ? and tag us on our social media accounts: Facebook, Twitter, Instagram, and Pinterest. For more baking recipes make sure you subscribed to our weekly newsletter. ?
Read More
Easy Buttermilk Biscuits Recipe
Christmas Shortbread Cookies with Nuts