==================
Affiliate Statement
Best Baking Tips is supported by our audience. When you purchase through one of our links, we may earn a small affiliate commission.  As an Amazon Associate I earn from qualifying purchases. Your cost is not affected.
==================
Ready for a delicious and unique recipe? This Hungarian Walnut Roll (Beigli) will wow your taste buds! Beigli is a popular Christmas pastry in Hungary, filled with light brown sugar, cinnamon, walnuts, and apples. Yum! gives you the step-by-step instructions so you can make this tasty treat yourself. Enjoy!
Hungarian Walnut Roll (Beigli): A wonderful Christmas treat!

The Hungarian Walnut Roll (Beigli) is a traditional holiday treat. Made with a rich yeasted dough, theroll is filled with a sweet filling of ground walnuts and spices. The dough is then rolled up, baked, and dusted with powdered sugar. Beiglis are often made in advance and stored for weeks at a time, making them the perfect holiday food.
There are two main types of beigli: the rolled variety and the filled variety. The rolled beigli is made with a thinner dough that is filled with a ground walnut filling and rolled up into a log shape. The filled beigli is made with a thicker dough that is filled with a whole walnut half and then baked. Beigli can also be made with other fillings such as poppy seeds or apricots. No matter what the filling, beigli are always delicious.
If you're looking for a festive and delicious treat this holiday season, try your hand at making beigli. You won't be disappointed!
What's inside this Hungarian Walnut Roll (Beigli) that makes it so delicious?
Nothing quite compares to the mouth-watering Hungarian Walnut Roll (Beigli). Filled with layers of walnuts, light brown sugar, cinnamon, and apples, this unique pastry has been a classic holiday favorite for centuries. The sweet aromas created from the combination of cinnamon, apples, and walnuts fill your home as it's baking in the oven.
Slice into this cake-like roll and you'll find that combining these ingredients gives the Beigli an incredible flavor profile, the perfect balance between sweetness and nuttiness! Not to mention, its golden and flaky crust will leave you wanting more every time. With flavors reminiscent of childhood memories and its complexity of textures, this traditional dessert brings together friends and family around a shared treat every time.
Hungarian Walnut Roll (Beigli)
If you want to try this Hungarian Walnut Roll (Beigli) Recipe, share your photo and experience with us. In addition, let us know what you think in the comments below by using #bestbakingtip, #hungarianwalnutroll, and #beigli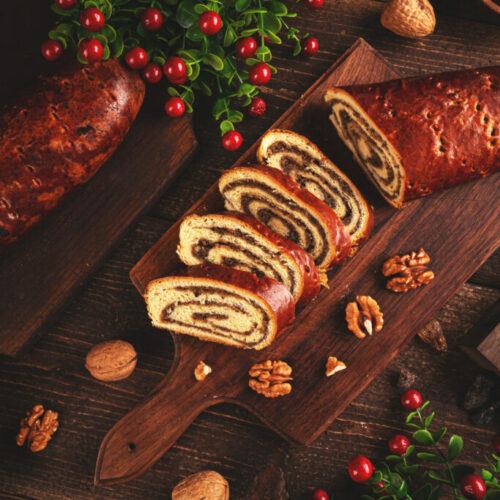 Hungarian Walnut Roll (Beigli)
Hungarian Walnut Roll (Beigli) is a delicious pastry made with sweet yeast dough and filled with walnuts and apples. This traditional Christmas dish is easy to make and can be enjoyed by the whole family!
Ingredients
Let's gather the ingredients!
Dough
1

package

active dry yeast

¼

cup

whole milk

lukewarm

2

tbsp

light brown sugar

⅓

tsp

kosher salt

½

cup

unsalted butter

softened

½

cup

sour cream

2

medium

eggs

beaten

3

cups

all-purpose flour

sifted
Filling
¾

cup

light brown sugar

¼

cup

unsalted butter

cubed

1

medium

egg

¼

tsp

cinnamon

ground

2½

cups

walnuts

lightly toasted, ground

1

apple
Instructions
Dough
In a large bowl, dissolve yeast and sugar in lukewarm milk, then set aside to bloom and get frothy.

When the yeast is ready, add the butter, sour cream, eggs, salt, and flour. Then beat until smooth. Add more flour if needed, the dough is normally sticky.

Turn the dough onto a lightly floured surface, then knead until smooth and elastic.

Place the dough in a lightly greased bowl, turning once to grease the top of the dough. Cover with plastic wrap and let rise in a warm place until doubled in size.
Filling
In a large saucepan, combine the sugar, butter, egg, and cinnamon. Cook and stir over medium heat until the mixture is thick enough to coat the back of a spoon.

Remove from the heat, then gently stir in the walnuts and apple. Cool the mixture completely.
Let's Assemble and bake!
Punch the dough down, then turn it onto a lightly floured surface. Divide the dough in half, then roll each dough into a 12x10-inch rectangle.

Spread filling to within a half inch of the edges. Roll up the dough starting with the long side, then pinch the seams to seal.

Place seam side down on a baking sheet lined with parchment paper, then poke the top with a fork. Cover and let rise until doubled in size. Preheat oven to 350°F.

Brush the rolls with egg wash, then bake for 30-40 minutes until golden brown.

Transfer the rolls to a wire rack to cool before cutting.

Serve warm or at room temperature, and enjoy with family and friends!
Nutrition
Calories:
2894
kcal
Carbohydrates:
275
g
Protein:
55
g
Fat:
185
g
Saturated Fat:
61
g
Polyunsaturated Fat:
74
g
Monounsaturated Fat:
37
g
Trans Fat:
3
g
Cholesterol:
466
mg
Sodium:
556
mg
Potassium:
1332
mg
Fiber:
18
g
Sugar:
109
g
Vitamin A:
2970
IU
Vitamin C:
7
mg
Calcium:
412
mg
Iron:
15
mg
Must-Read Articles
Below are the must-read articles about baking. You will enjoy them reading as they are full of information and helpful tips. Read them and share your thoughts.
2. Honey Butter Cornbread Muffins
5. Easy Buttermilk Biscuits Recipe
To Wrap It All Up
Hungarian Walnut Roll (Beigli) is a delicious Hungarian dessert that can be enjoyed all year round. The recipe we've shared is perfect for the holidays, but feel free to make it any time you want something special. We hope you enjoy it!
Connect With Us
If you've tried this Hungarian Walnut Roll (Beigli) Recipe, please don't forget to leave a rating on the recipe card. In addition, Take a ? and tag us on our social media accounts: Facebook, Twitter, Instagram, and Pinterest. For more baking recipes make sure you subscribed to our weekly newsletter. ?
Read More
Christmas Shortbread Cookies with Nuts
Cream Cheese Christmas Cookies
Frosted Mini Cinnamon Roll Bites Recipe
Air Fryer Pumpkin Banana Nut Bread