==================
Affiliate Statement and a Caveat 
First off, a little caveat: within my articles you will find affiliate links, meaning if you buy them, I get a small commission. Your cost is not affected. In addition, I am an Amazon Associate and I earn from qualifying purchases on Amazon.
And yes, if I say that I recommend a product here, it means I truly believe it is a good product. I refuse to recommend any product that I have not researched and believe to be a good value.
Even better, I provide you with a very clear picture of the product, it's use, and the probable value.
Earning your trust is important to me. I run this website myself and the commissions and donations help support the site.
Sound reasonable and fair enough? Let's continue to the article.
==================
I'm a big fan of chocolate. I especially love dark chocolate, which is why I was thrilled to discover Dark Chocolate Alfajores. Alfajores are a type of sandwich cookie that originated in South America. They typically consist of two shortbread cookies filled with dulce de leche, a caramel-like filling. However, the Dark Chocolate Alfajores that I discovered are coated with a rich, slightly bitter dark chocolate. The cookies are soft and crumble easily in your mouth, while the filling is thick and velvety. The dark chocolate pairs perfectly with the sweetness of the ganache, creating a truly delicious treat. If you're a fan of dark chocolate, I highly recommend trying Dark Chocolate Alfajores. You won't be disappointed!
Dark Chocolate Alfajores: Delectably Sweet and Velvety!

Dark Chocolate Alfajores are delicious, bite-sized treats that are perfect for any occasion. These delectable little morsels are made with two fluffy biscuit halves sandwiching a rich, velvety filling, and dipped in dark chocolate. The result is a sweet and decadent treat that is sure to satisfy any sweet tooth.
There are many reasons to love Dark Chocolate Alfajores. First, they are incredibly versatile. Whether you are looking for a quick snack or an elegant dessert, these bite-sized treats are sure to fit the bill. They also travel well, making them perfect for taking on the go. And because they are so easy to make, you can always have a fresh batch on hand when the mood strikes.
If you haven't tried Dark Chocolate Alfajores yet, you are in for a real treat. These delectable little morsels are sure to become your new favorite indulgence!
What's inside these Dark Chocolate Alfajores that makes them so irresistible?
These Dark Chocolate Alfajores with light brown sugar are sandwiching a generous layer of dulce de leche and enrobed in rich dark chocolate. The trifecta of key ingredients creates an irresistible cookie that's sweet, sticky, and indulgent.
The light brown sugar cookies have a crisp, shortbread-like texture that's perfect for sandwiching the dulce de leche.
The dulce de leche is made by slowly cooking sweetened condensed milk until it becomes a thick, caramel-like filling. It's intensely sweet and sticky, making it the perfect filling for these cookies.
The dark chocolate coating provides a balance with its rich, decadent flavor that takes these cookies over the top.
So what's inside these Dark Chocolate Alfajores that makes them so irresistible? It's the light brown sugar, dulce de leche filling, and dark chocolate coating!
Dark Chocolate Alfajores
If you want to try this Dark Chocolate Alfajores Recipe, share your photo and experience with us. In addition, let us know what you think in the comments below by using #bestbakingtip and #darkchocolatealfajores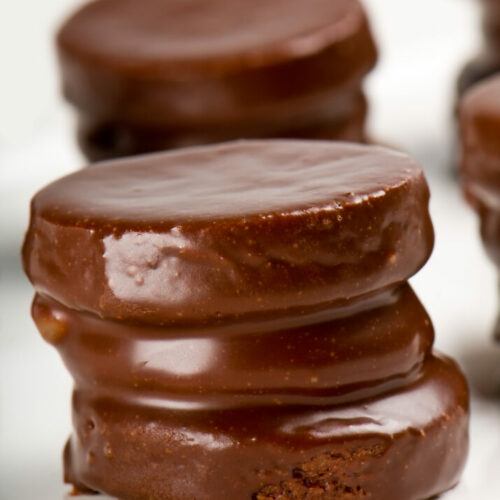 Dark Chocolate Alfajores
Dark Chocolate Alfajores are a delicious and indulgent treat. These cookies are filled with dulce de leche and coated with dark chocolate, and they are absolutely irresistible! If you are looking for a sweet and decadent dessert, then you need to try these cookies! They will quickly become your new favorite!
Ingredients
Let's gather the ingredients!
Cookies
¾

cup

unsalted butter

softened

1

cup

light brown sugar

2

large

eggs

room temperature

1 ½

tbsp

honey

1 ½

cup

all-purpose flour

2

tsp

vanilla extract

2

tsp

baking powder

1

tsp

baking soda

⅛

tsp

kosher salt
Coating
1

cup

dark chocolate

60%-70% cocoa, chopped

1

tbsp

unsalted butter
Instructions
Cookies
In a large bowl with the paddle mixer attachment. Beat the butter until creamy and pale, then add sugar, mix until smooth. Add honey and vanilla, then the eggs one by one, and beat until all is combined.

Sift the flour, baking soda, baking powder, and salt, then add to the butter mixture. Mix with a wooden spoon or rubber spatula until a soft dough forms. Wrap in cling film and refrigerate for an hour or two.

On a lightly floured surface, roll the dough thin, about ⅓-inch over a floured countertop.

Cut the Alfajores with a 1.5-inch cookie cutter, then place them on an oven tray lined with parchment paper.

Bake for 10 minutes until the dough has slightly risen. Let the cookies cool completely after baking.
Let's Assemble!
Fill the cookies with a tablespoon of dulce de leche, then sandwich them with another cookie.

Wrap the Alfajores in plastic wrap, then refrigerate overnight.

In a double boiler, melt the dark chocolate and melted butter. stir until all the chocolate is dissolved.

Dip the Alfajores in the melted chocolate until everything is covered.

Chill the Alfajores in the fridge until the coating is set and hardened.

Serve and enjoy with family and friends!
Nutrition
Calories:
138
kcal
Carbohydrates:
16
g
Protein:
2
g
Fat:
8
g
Saturated Fat:
5
g
Polyunsaturated Fat:
0.3
g
Monounsaturated Fat:
2
g
Trans Fat:
0.2
g
Cholesterol:
26
mg
Sodium:
83
mg
Potassium:
65
mg
Fiber:
1
g
Sugar:
9
g
Vitamin A:
174
IU
Vitamin C:
0.01
mg
Calcium:
30
mg
Iron:
1
mg
Must-Read Articles
Below are the must-read articles about baking. You will enjoy them reading as they are full of information and helpful tips. Read them and share your thoughts.
2. Greek Honey Cookies (Melomakarona)
4. Strawberry Tres Leches Cake
5. Easy Buttermilk Biscuits Recipe
To Wrap It All Up
There you have it! A delicious, decadent way to enjoy Dark Chocolate Alfajores. Whether you're looking for a fun new recipe to add to your repertoire or just want an excuse to eat more chocolate (we don't blame you), these cookies are sure to please. Be sure to let us know how they turn out if you decide to make them!
Connect With Us
If you've tried this Dark Chocolate Alfajores Recipe, please don't forget to leave a rating on the recipe card. In addition, Take a 📷 and tag us on our social media accounts: Facebook, Twitter, Instagram, and Pinterest. For more baking recipes make sure you subscribed to our weekly newsletter. 📧
Read More
Dark Chocolate Mousse Filled Cookie Cups