==================
Affiliate Statement
Best Baking Tips is supported by our audience. When you purchase through one of our links, we may earn a small affiliate commission.  As an Amazon Associate I earn from qualifying purchases. Your cost is not affected.
==================
Is there anything sweeter than a Valentine's Day treat? We think not! From cupcakes and sugar cookies to chocolate-dipped strawberries and pies, sweets are the way to go when you want to say 'I love you' in style. But if you really want your special someone to feel extra sweet this season, then nothing says it better than cake pops – those delightful little desserts that combine all of the flavors of a soft, fluffy cake with creamy chocolate and colorful sprinkles. In this post, we will share our recipe for Valentine Cake Pops that are perfect for expressing your true feelings this Valentine's Day. Grab some candy melts, cookie sticks and any other ingredients listed below so let's make some delicious treats together!
Valentine Cake Pops: A special gift for loved ones!
Valentine's Day is just around the corner, making it the perfect time to start thinking about special treats. One of the most delightful and unique treats that you can give your special someone this Valentine's Day is Valentine Cake Pops. What could be better than a tasty bite-sized cake pop? Our Valentine Cake Pops are decorated with sweet frosting and sprinkled with delicious toppings. Perfect as an edible gift or an extra sweet indulgence, these cake pops will surprise and delight everyone! With Valentine Cake Pops, you can add a special touch to any dinner party or get-together celebration. Get into the holiday spirit of love and show your loved ones a special treat – try our Valentine Cake Pops today!
Best Baking Tips; Ingredient Tips!
For all the bakers looking to create Valentine's Day-themed cake pops, you can let your imagination run wild when picking a favorite cake flavor. Take this opportunity to experiment with unique flavor combinations like strawberry and dark chocolate combo. Then, go ahead and crumble the cake into a bowl and mix in a few tablespoons of creamy cream cheese – it will make them extra moist and totally delicious! Finally, finish them off by dipping each cake pop in melted candy melts. Now they're ready to enjoy or wrap up as a sweet gift for someone special this Valentine's Day.
Valentine Cake Pops
If you want to try this Valentine Cake Pops Recipe, share your photo and experience with us. In addition, let us know what you think in the comments below by using #bestbakingtip and #valentinecakepops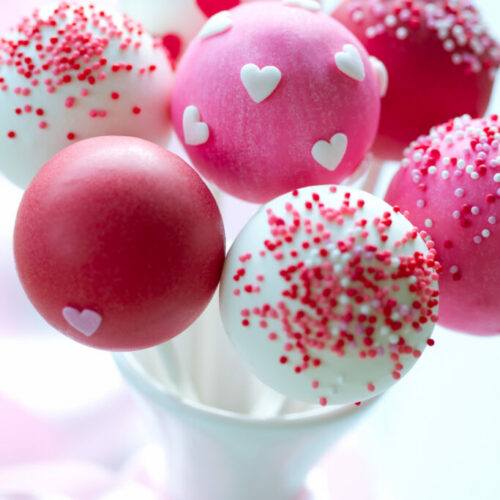 Valentine Cake Pops
Welcome to the sweet life! Whether you love them or hate them, Valentine's Day is approaching and if you're looking for a fun way to spread some sweetness on February 14th, look no further than these homemade cake pops. Not only are they incredibly tasty, but they're also surprisingly easy to put together with minimal baking experience required. So don your best baker hat and follow along as we walk through this step-by-step tutorial on how you can make these scrumptious little treats right in your own kitchen! Let's get popping!
Ingredients
Let's gather the ingredients!
½

cake

cooked, any flavor you prefer

2

tbsp

cream cheese

softened

12

ounces

candy melts

red, white, or pink

20

6-inch

cookie sticks

red, white, or pink sprinkles

any design will do great!
Instructions
Let's Begin!
In a large bowl, crumble your preferred cake, then add the cream cheese. Mix well with a spoon.

Divide the cake into 20 pieces. With the palm of your hand, round out each portion into a ball shape.

Place your cake pops on a sheet pan or plate, and place in the freezer for 15 minutes.

While the cake pops are in the freezer, place all of the candy melts in a medium-sized bowl. Microwave for 30-second intervals until completely melted.

Place the cookie stick in the candy melt, then the cake pop. Then dip the cake pop into the candy melts. Coat the pop completely with the melt. On the side of the bowl, tap it gently with the stick removing any excess chocolate from the cake pop to create a smooth finish.

Place the cake pop on the parchment paper. Immediately add the sprinkles before the chocolate sets.

Serve and enjoy with family and friends!
Nutrition
Calories:
91
kcal
Carbohydrates:
15
g
Protein:
1
g
Fat:
3
g
Saturated Fat:
2
g
Polyunsaturated Fat:
0.1
g
Monounsaturated Fat:
0.2
g
Trans Fat:
0.1
g
Cholesterol:
1
mg
Sodium:
102
mg
Potassium:
10
mg
Fiber:
0.1
g
Sugar:
10
g
Vitamin A:
19
IU
Calcium:
30
mg
Iron:
0.3
mg
Must-Read Articles
Below are the must-read articles about baking. You will enjoy them reading as they are full of information and helpful tips. Read them and share your thoughts.
To Wrap It All Up
Now that you know how to make these delicious cake pops, it's time to get baking! Whether you're looking for a fun activity to do with your kids or want to impress your friends and family, these Valentine Cake Pops are sure to be a hit. So what are you waiting for? Get baking!
Connect With Us
If you've tried this Valentine Cake Pops Recipe, please don't forget to leave a rating on the recipe card. In addition, Take a ? and tag us on our social media accounts: Facebook, Twitter, Instagram, and Pinterest. For more baking recipes make sure you subscribed to our weekly newsletter. ?
Read More
Valentine's Day Dessert Recipes
White Chocolate Raspberry Cake
Chocolate Strawberry Cheesecakes